Arts.mic or Mic.com just published an interesting article on art's effect on the human brain.  Some of the highlights of the article were that "experiencing art decreases stress levels" and that "the brain is hardwired to process art."  The article also noted that the biggest benefits come from actually producing art.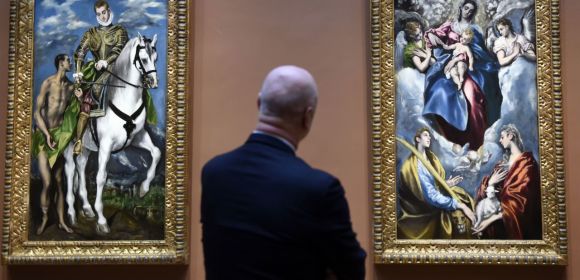 "Along with the perks of enjoying and experiencing art, there are real-world benefits to making the art with your own two hands. According to a 2014 study, producing visual art improved psychological resilience and increased brain activity for the participants by the end of the experiment.
The study had two groups of recent retirees. One group was given lessons by an art educator and the participants actively created pieces of visual art that displayed their own personal form of artistic expression. The other group was treated more like a discussion class, where they talked about and interpreted selected paintings and sculptures. Both groups had their brains scanned before and after the period of courses.
The brain scans of the two groups before the classes (T0) and after 10 weeks (T1).Source: Anne Bolwerk/PLOSOne
Of the two groups, the one that produced art reaped the neural benefit of increased connectivity in the brain's default mode network over the ten weeks of art class. This area deals with cognitive process like introspection, self-monitoring and memory.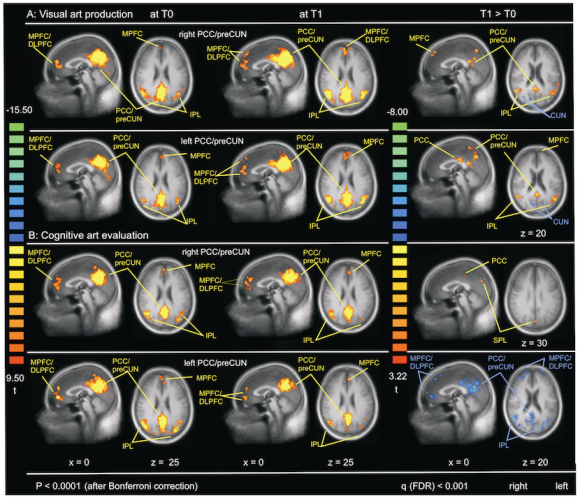 As Hyperallergic points out, the researchers speculate that the first group got the gains because of the combination of motor and cognitive processing. They state in the study, "The visual art production intervention involved the development of personal expression and attentional focus on self-related experience during art creation." Utilizing motor skills and thinking about art together becomes more beneficial instead of doing either separately. "
Click the link below for the full article:
http://mic.com/articles/106504/science-shows-that-art-is-having-fantastic-effects-on-our-brains-and-bodies
Tags: art, art education, brain, brain development, study